It's that time of year again...when Christmas music fills the air, our thoughts are turned to others, and we remember the baby born in the manger.
This is the season of giving, and that means giving gifts. :)
I've had a few of you email me asking for gift ideas for the Primary children. So, here are a few of my ideas and a few from my amazing readers.
Since this year we focused on the Scriptures, I thought you might want to focus on that when choosing your gifts.
Gift ideas:
1. In a cute Christmas gift bag have a Scripture Marker and a Bookmark. On a card add your testimony (or each testimony from the Primary Presidency). Laminate the Testimony card, so the children can keep it in their scriptures. Then add some yummy Christmas candy. You could use the Hershey's Treasure candy and add a card that says 'Treasure the Scriptures'.
2. Pillowcase with a Scripture Rock
You could even personalize each pillow case by painting names or using Iron-on products (you can usually find the Iron-on transfer paper at any office store or use your craft cutter if you have one). Put the child's name on the pillow or a short phrase about the scriptures:
"I know the Scriptures are true."
"Read Every Day!"
"Make sure your scriptures are read, before you lay down your head."
Along with the pillow case add their very own 'Scripture Rock', along with a 'Scripture Rock' poem.
(It's usually a 'Prayer' rock, but just change the name to 'Scripture Rock' to go along with the theme.)
3. Remember these cute Bottlecap Pins? These would be great for Primary Children. I have the pink one pinned on my Scripture Bag and I love it!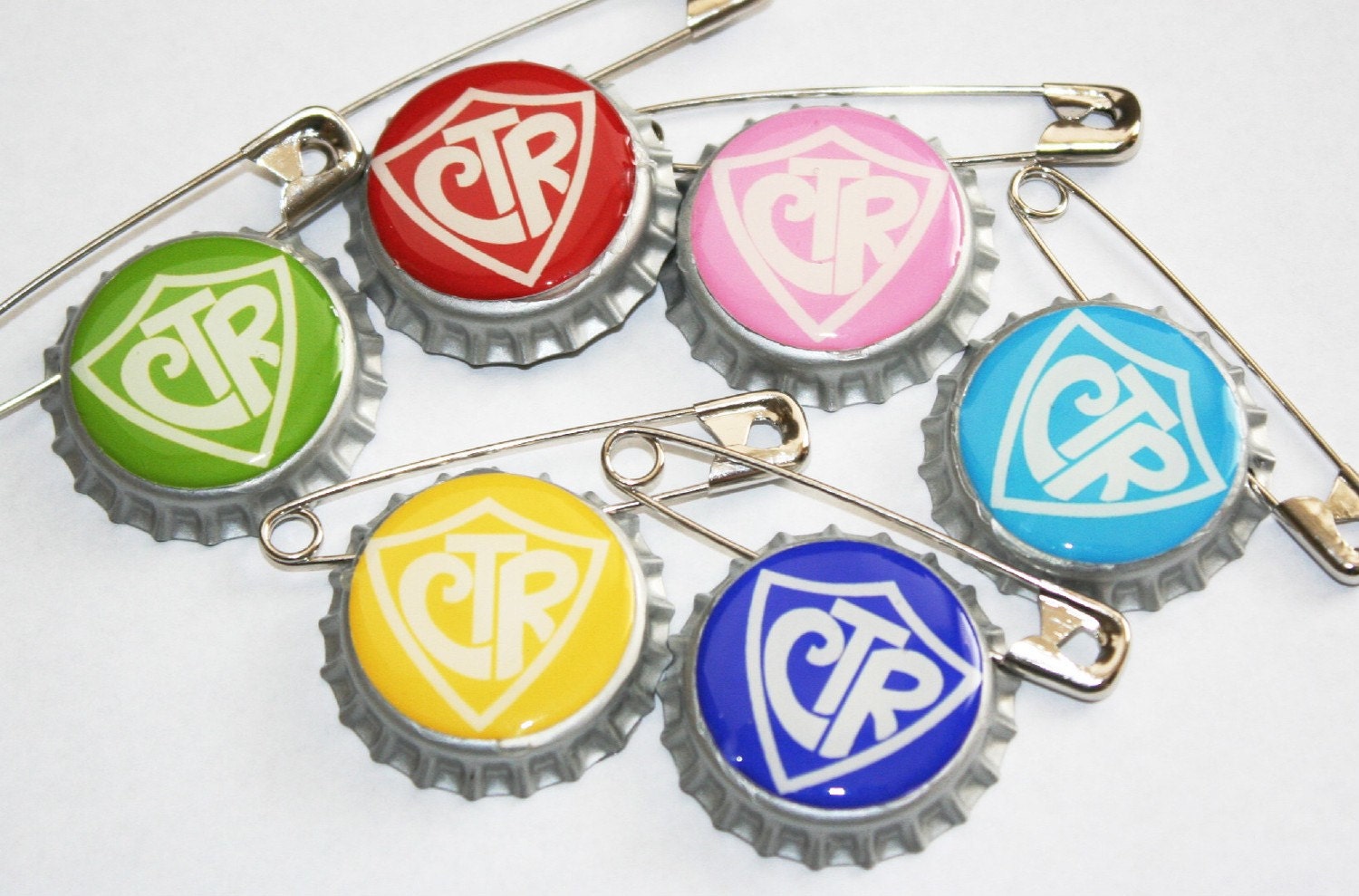 They also have necklaces and tie tacks. Just visit Jen & Amber's etsy shop and look around. If you have a large quantity that you would like to order they work with you to give you a great price.
Click here to visit the Just Be Shop
Gift Ideas from You:
Here are some great ideas from you, my amazing readers. Thanks for sharing!
1. The past year for primary children's birthdays we gave them a scripture marking pencil and bookmark. So for Christmas we decided to complete the set and give them a pocket sized Book of Mormon with the Primary Presidency's testimony inside the front cover. Seemed to fit this year's theme well.
2.
We are giving our children a Mason/Ball jar lid that has a cut out die scalloped edge circle that fits right on the front inside of the outside edge. This is then modge podged and a vinly cut out "CTR" placed on this. We chose red paper and white vinyl. Modge podge this again. On the back either write the name of the child and the year or do it on an Avery label. Attach a string or ribbon with hot glue and voila' you have a little Christmas ornament that introduces the 2012 theme over and over again year after year. Now, if you have a big budget (which we don't!) you could hot glue heavy circle magnets on the back and this could then be put on a refrigerator and remind them daily to CTR. We are excited to give these to our children this year.
3. This idea came from Andria Hansen. She said:
We put together books for the kids for Christmas. The front page has the 2012 theme, scripture, and CTR logo. Each time you open a page, there's the month's theme, scripture and words to the song for that month. We're going to tie a candy cane on it with ribbon.
Our president also had a great idea for encouraging the children to bring their scriptures each week, too. Next year we're going to have a temple box, and everyone who brings their scriptures gets to put a penny in the box. At the end
of the year we will donate the money to the
General Temple Patron Assistance Fund that President Monson mentioned last conference. The fund helps people who would otherwise never be able to go to the temple to go one time. We are getting a temple in our town next fall, so we're really excited to focus on temples next year, along with CTR. We are asking the people in the ward to donate their spare change for this project.
What ideas do you have? Leave a comment or send me an email sharing your idea.
If I receive any other ideas I'll be sure to post them on here. And if I come up with anything else I'll do the same. :)
Alright, I think that's it. Have a great day!!